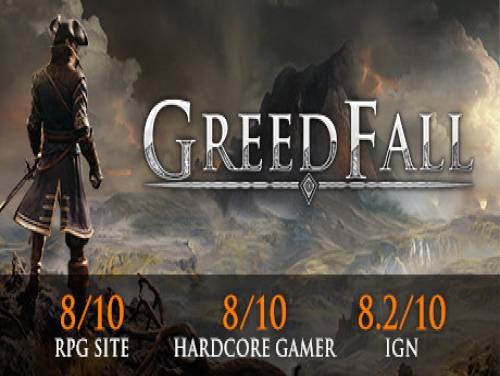 We are happy to show you the trainer and its guide to its use that we have composed for Greedfall!
We hope that at the end of the reading you will appreciate the work we have done, if you have any suggestions for this article, comment or contact us and we will update the page.
Too little, we also have the Tricks of Greedfall! You can find them in the appropriate page of the tricks and codes of Greedfall of this site Inside the page there are paragraphs about the tricks and the unlockables of the game If you are stuck somewhere in the game, or you just want have more fun out of the rules, no way is better to consult the tricks we have collected for you.
Experience of a role-play only and forge the fate of a new land full of magic, treasures, secrets and fantastic creatures. With diplomacy, deception and strong ways, becomes part of this world alive and evolving: change your destiny and forge your own history.
And now, finally, the long-awaited trainer for this game: download it, and after reading the user guide, activate it and you can use all the tricks you promise while playing.
Download Trainer
This trainer adds the following cheats to this game:
Unlimited Health
Unlimited Mana
Unlimited Fury
Unlimited Consumables / Ammo
Unlimited Weight
Easy Craft / Upgrade
Easy Reset Skills/Talents/Attributes
Edit: Current HP
Edit: Max HP
Edit: Current Mana
Edit: Max Mana
Edit: Current Fury
Edit: Max Fury
Edit: Skill Points
Edit: Attribute Points
Edit: Talent Points
Edit: Skill Points Spent
Edit: Talent Points Spent
Edit: STR
Edit: END
Edit: AGI
Edit: MEN
Edit: ACU
Edit: WIL
Edit: Gold
Edit: Current XP
Edit: Next XP
Why do you have to pay for some Trainers and Cheats?
Actually is very rare to find games containing cheats because game developers are not interested in keeping them in their games. So the creation of cheats is executed by external programmers that spend their time and skills into the creation of Trainers, programs that let you cheats on a particular game. They do it for passion or for money. Whatever the motivation, it's right to reward them for the time spent on their work.
Paid Cheats and Trainers are better in quality, contains more functionalities, are maintained and supported by their developers.
Respect of the Copyright
The program you are about to download was not created by Apocanow. However, we have permission to publish, publicize and disseminate the authors of the Trainer Greedfall Trainer - vORIGINAL. Содержимое файла не содержит вирусов, даже если иногда они могут инициировать AV как ложные положительные.
Activating this trainer
If not state otherwise below, press F1 at main menu.Listen for 'Trainer Activated'.Press desired hotkey. All hotkeys can be changed on the trainer.
Promo Options
NumPad5: Unlimited Weight
Trainer Options
# PlayerNumPad1: Unlimited HealthNumPad2: Unlimited ManaNumPad3: Unlimited Fury# InventoryNumPad4: Unlimited Consumables / AmmoNumPad5: Unlimited Weight# CraftingNumPad6: Easy CraftNumPad7: Easy Upgrade
Editor Options
# Player Stats:Current HPMax HPCurrent ManaMax ManaCurrent FuryMax Fury# Upgrade Points:Skill PointsAttribute PointsTalent Points# Attributes:STRENDAGIMENACUWIL# Currency:Gold# Progression:Current XPNext XP
Notes
Unlimited Health:Toggle on for the effect.Unlimited Mana:Toggle on for the effect.Unlimited Fury:Toggle on for the effect.Unlimited Consumables / Ammo:Toggle on and most potions and consumables and weapon ammo are unlimited at 20.Easy Craft:Toggle on and many items can be crafted even if you do not have the materials.Easy Upgrade:Toggle on and many items can be upgraded even if you do not have the materials.