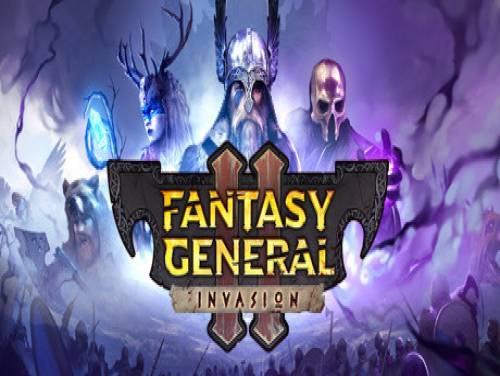 Welcome to the article on this site linked to the trainer of Fantasy General II On this page you will also find a user guide that will allow you to activate all the tricks that this trainer promises to add.
If you believe you have material to add to the article, please contact us and we will be happy to publish it here on this page.
In the following page tricks of Fantasy General II you will be able to see the tricks and the codes we managed to collect for this game, thanks to them you will be able to overcome any difficulty, even at the cost of cheating a little.
The armies once again draw battle lines on earth, devastated by the war of the Keldonia and a new generation of commanders will test their courage and their tactics against one another. Fantasy wargaming is back!
And now, finally, the long-awaited trainer for this game: download it, and after reading the user guide, activate it and you can use all the tricks you promise while playing.
Download Trainer
This trainer adds the following cheats to this game:
Unlimited Movement
Unlimited Attacks
Team God Mode
Edit: Gold Spent
Edit: Total Max Gold
Edit: Gold In Game
Edit: Mana In Game
Edit: Current Displayed Health
Edit: Damage Done To Unit 1
Edit: Damage Done To Unit 2
Edit: Current Displayed Max Health
Edit: Skill Points Spent
Edit: Current Level / Max Skill Points
Edit: Current XP
Why do you have to pay for some Trainers and Cheats?
Actually is very rare to find games containing cheats because game developers are not interested in keeping them in their games. So the creation of cheats is executed by external programmers that spend their time and skills into the creation of Trainers, programs that let you cheats on a particular game. They do it for passion or for money. Whatever the motivation, it's right to reward them for the time spent on their work.
Paid Cheats and Trainers are better in quality, contains more functionalities, are maintained and supported by their developers.
Respect of the Copyright
The program you are about to download was not created by Apocanow. However, we have permission to publish, publicize and disseminate the authors of the Trainer Fantasy General II Trainer - v01.00.07074. Содержимое файла не содержит вирусов, даже если иногда они могут инициировать AV как ложные положительные.
Activating this trainer
If not state otherwise below, press F1 at main menu.Listen for 'Trainer Activated'.Press desired hotkey. All hotkeys can be changed on the trainer.
Promo Options
Resources: Mana In Game
Trainer Options
# Player UnitsNumPad1: Unlimited MovementNumPad2: Unlimited AttacksNumPad3: Team God Mode
Editor Options
# Skirmish Start Gold:Gold SpentTotal Max Gold# Resources:Gold In GameMana In Game# Selected Unit:Current Displayed HealthDamage Done To Unit 1Damage Done To Unit 2Current Displayed Max HealthSkill Points SpentCurrent Level / Max Skill PointsCurrent XP
Notes
EDITOR OPTIONSFor GOLD, the value will fill in automatically but also can be made current by clicking on the HIRE NEW RECRUITS button at the bottom of the screen when in the game.For MANA, the value will likely only fill in if you are moving units that require mana.Unlimited Movement:Toggle on and you can continue to move.Unlimited Attacks:Toggle on and you can continue to attack.Team God Mode:Toggle on and the trainer will try to quickly heal any damage to your units.