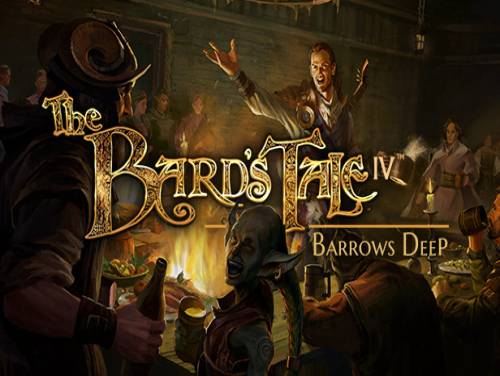 Welcome to Apocanow! This article shows the trainer of the game The Bard's Tale IV: Director's Cut and contains a little guide to its use in separate pages, you will also find possible solutions and tricks of the game.
If you know other material about the trainer and you can improve this guide, we would be happy to know the details Contact us or comment on this article! You will help all users who are looking for a good guide made for this topic.
Too little, we also have the Tricks of The Bard's Tale IV: Director's Cut! You can find them in the appropriate page of the tricks and codes of The Bard's Tale IV: Director's Cut of this site Inside the page there are paragraphs about the tricks and the unlockables of the game If you are stuck somewhere in the game, or you just want have more fun out of the rules, no way is better to consult the tricks we have collected for you.
The bard's birthday This IV: Director's Cut is the triumphant return of one of the series of role-playing games, the most iconic of all time. Immerse yourself in a combat system tactically rich that rewards creativity, solve puzzles to obtain the treasures and benefits, and discover a world that is wonderfully realized.
Thank you for reading this brief introduction, and now let's show the guide to the trainer and the button to download it.
Download Trainer
This trainer adds the following cheats to this game:
Unit Can Attack/Turn Not Over
Fast Spell Cooldowns
Easy Craft
Game Speed
Current HP
Max HP
Armor Class
Strength
Spell Points
Intelligence
Level
XP
Gold
Current Amount
Max Amount
Why do you have to pay for some Trainers and Cheats?
Actually is very rare to find games containing cheats because game developers are not interested in keeping them in their games. So the creation of cheats is executed by external programmers that spend their time and skills into the creation of Trainers, programs that let you cheats on a particular game. They do it for passion or for money. Whatever the motivation, it's right to reward them for the time spent on their work.
Paid Cheats and Trainers are better in quality, contains more functionalities, are maintained and supported by their developers.
Respect of the Copyright
The program you are about to download was not created by Apocanow. However, we have permission to publish, publicize and disseminate the authors of the Trainer The Bard's Tale IV: Director's Cut Trainer - v4.20.1. Содержимое файла не содержит вирусов, даже если иногда они могут инициировать AV как ложные положительные.
Activating this trainer
If not state otherwise below, press F1 at main menu.Listen for 'Trainer Activated'.Press desired hotkey. All hotkeys can be changed on the trainer.
Promo Options
NumPad4: Game Speed
Trainer Options
NumPad1: Unit Can Attack / Turn Not OverNumPad2: Fast Spell CooldownsNumPad3: Easy CraftNumPad4: Game Speed
Editor Options
Selected Unit: Current HPSelected Unit: Max HPSelected Unit: Armor ClassSelected Unit: StrengthSelected Unit: Spell PointsSelected Unit: IntelligenceSelected Unit: LevelSelected Unit: XPCurrency: Current GoldSelected Inventory: Current AmountSelected Inventory: Max Amount
Notes
Unit Can Attack / Turn Not Over:Toggle on and the unit you are controlling can attack over and over.Fast Spell Cooldowns:Toggle on and the unit you are using the spells or abilities reset quickly for use again.Easy Craft:Toggle on FIRST, THEN enter the inventory, then enter the CRAFT area and likely you can craft anything that is on the left side, even if you do not have the materials.Game Speed:Toggle on for faster Game Speed.