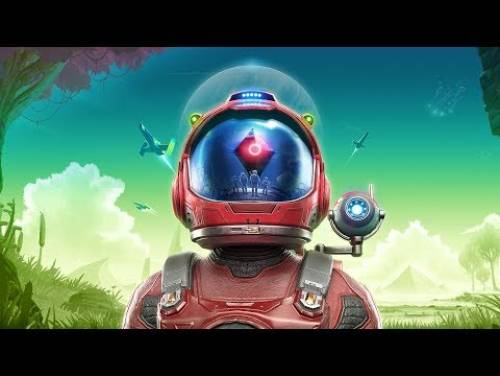 Hello and welcome to Apocanow, we present this article about the Trainer of No Man's Sky Beyond We hope it will serve you and allow you to improve your experience with this game.
If you know anything else, always relevant to the topic, or elements to improve this article, do not hesitate to contact us or comment on the guide, you will make it more complete and more useful to all visitors.
For No Man's Sky Beyond we also have the Game Tricks available.You will find a collection of codes and unlockables that will allow you to overcome any obstacle on the tricks of No Man's Sky Beyond .
Greatly expands the multiplayer experience introduced in the NEXT, it brings the immersion to a whole new level with virtual reality all the effects, the review of the base building, NPC, tech trees, and much more. On the occasion of the third anniversary of No Man's Sky, this is our biggest update so far, expanding the experience throughout the game.
After this introduction to the game, here is the trainer we promised you, you can see the guide and download the trainer on your PC.
Download Trainer
This trainer adds the following cheats to this game:
God Mode
Toxicity Hazard Protection
Life Support Energy
Unlimited Tool/Gun
No Tool/Gun Overheat
Unlimited Stamina
Unlimited Jetpack
Massive Credits
Easy Craft/Build/Open
No Reload
Unlimited Ammo
Max Resources
Reset Wanted
No Alert
No Ship Weapon Overheat
Infinite Launch Thrusters
Infinite Impulse Drive
Unlock All Inventory Slots
Easy Hyperspace
Unlimited Warp Cells
Interpret Atlas Language
Nanite Clusters
Quicksilver
Unlimited Terrain Manipulator
Why do you have to pay for some Trainers and Cheats?
Actually is very rare to find games containing cheats because game developers are not interested in keeping them in their games. So the creation of cheats is executed by external programmers that spend their time and skills into the creation of Trainers, programs that let you cheats on a particular game. They do it for passion or for money. Whatever the motivation, it's right to reward them for the time spent on their work.
Paid Cheats and Trainers are better in quality, contains more functionalities, are maintained and supported by their developers.
Respect of the Copyright
The program you are about to download was not created by Apocanow. However, we have permission to publish, publicize and disseminate the authors of the Trainer No Man's Sky Beyond Trainer - vBEYOND Trainer 2.00. Содержимое файла не содержит вирусов, даже если иногда они могут инициировать AV как ложные положительные.
Activating this trainer
If not state otherwise below, press F1 at main menu.Listen for 'Trainer Activated'.Press desired hotkey. All hotkeys can be changed on the trainer.
Promo Options
NumPad5: No Tool Overheat
Trainer Options
NumPad1: God ModeNumPad2: Unlimited Hazard ProtectionNumPad3: Unlimited Life Support EnergyNumPad4: Unlimited Tool Life DurabilityNumPad5: No Tool OverheatNumPad6: Unlimited Stamina / SprintNumPad7: Unlimited JetpackNumPad8: Easy Craft/Build/OpenNumPad9: Unlimited AmmoMultiply: No ReloadAdd: Reset ResourcesSeparator: Reset Wanted LevelSubtract: No AlertDecimal: No Space Weapon OverheatDivide: Infinite Launch ThrustersF1: Infinite Impulse DriveF2: Unlock Inventory SlotsF3: Unlimited Warp CellsF4: Easy Interpret LanguagesF5: Easy Terrain ManipulatorF6: Easy HyperdriveF7: Game Speed
Editor Options
Currency: CreditsCurrency: Nanite ClustersCurrency: Quicksilver
Notes
EDITOR OPTIONSEnter the inventory and note the values. Edit the values then press TAB to lock them in.God Mode:Toggle on and likely your character cannot be killed by most things.Unlimited Hazard Protection:Toggle on for the effect.Unlimited Life Support Energy:Toggle on for the effect.Unlimited Tool Life Durability:Toggle on for the effect.No Tool Overheat:Toggle on for the effect.Unlimited Stamina / Sprint:Toggle on for the effect.Unlimited Jetpack:Toggle on for the effect.Easy Craft/Build/Open:Toggle on and you can do most things in the game that would require you have items to build, repair, created, etc.Unlimited Ammo:Toggle on for the effect.No Reload:Toggle on for the effect.Reset Resources:Open the inventory, toggle on, then toggle back off after you see the effect. Do not leave this on.Reset Wanted Level:Toggle on for the effect.No Alert:Toggle on for the effect.No Space Weapon Overheat:Toggle on for the effect. May not help with rockets.Infinite Launch Thrusters:Toggle on for the effect.Infinite Impulse Drive:Toggle on for the effect.Unlock Inventory Slots:Toggle on in the appropriate area where you see slots, then move the mouse around the slots to unlock them. Toggle back off when done and not needed.Unlimited Warp Cells:Toggle on for the effect. If you have 1 warp when you use it, you will have 99.Easy Interpret Languages:Toggle on for the effect.Easy Terrain Manipulator:Toggle on for the effect.Easy Hyperdrive:Toggle on and when you select a star in the galaxy map, you will warp there, even if it's too far, and even if you do not have warp cells. This powerful option allows you to get around the galaxy much faster.Game Speed:Toggle on to speed up the game.