Metal Wolf Chaos XD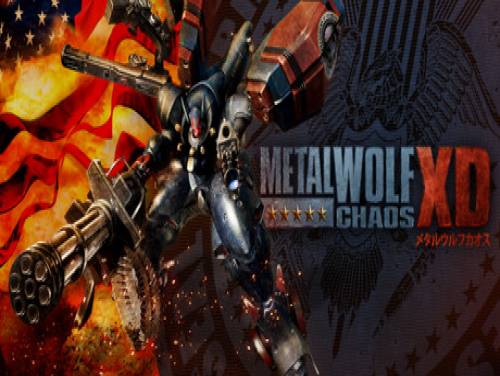 Welcome to the trainer's page of Metal Wolf Chaos XD You will surely be satisfied with the material we found, as this is a site completely dedicated to the trainers and tricks of video games.
The guide may not be 100% complete! If you have found something we have not contacted or commented on this article and we will be happy to link what you have sent us to what already exists.
Do you want to get out of the box? We have Tricks for Metal Wolf Chaos XD. See the page tricks and secrets of Metal Wolf Chaos XD always on apocanow. You will find all the tricks, codes, unlockables and objectives with the explanation on how to overcome them Nothing better to increase your fun with Metal Wolf Chaos XD.
The country is in danger! President Michael Wilson he will have to defend the nation from the legions of mechanised in revolt led by vice-president Richard Hawk.
Thank you for reading this brief introduction, and now let's show the guide to the trainer and the button to download it.
Download Trainer
This trainer adds the following cheats to this game:
Unlimited Health
Unlimited Boost
Unlimited Ammo
No Reload
Always Ready Special Attack
Unlimited Money
Unlimited Rare Metal
Why do you have to pay for some Trainers and Cheats?
Actually is very rare to find games containing cheats because game developers are not interested in keeping them in their games. So the creation of cheats is executed by external programmers that spend their time and skills into the creation of Trainers, programs that let you cheats on a particular game. They do it for passion or for money. Whatever the motivation, it's right to reward them for the time spent on their work.
Paid Cheats and Trainers are better in quality, contains more functionalities, are maintained and supported by their developers.
Respect of the Copyright
The program you are about to download was not created by Apocanow. However, we have permission to publish, publicize and disseminate the authors of the Trainer Metal Wolf Chaos XD Trainer - v1.02. Содержимое файла не содержит вирусов, даже если иногда они могут инициировать AV как ложные положительные.
Activating this trainer
If not state otherwise below, press F1 at main menu.Listen for 'Trainer Activated'.Press desired hotkey. All hotkeys can be changed on the trainer.
Promo Options
NumPad2: Unlimited Boost
Trainer Options
NumPad1: Unlimited HealthNumPad2: Unlimited BoostNumPad3: Unlimited AmmoNumPad4: No ReloadNumPad5: Always Ready Special AttackNumPad6: Unlimited MoneyNumPad7: Unlimited Rare Metal
Notes
Unlimited Health:Toggle on to keep full.Unlimited Boost:Toggle on to keep full.Unlimited Ammo:Toggle on to prevent from decreasing.No Reload:Toggle on to prevent from decreasing.Always Ready Special Attack:Toggle on to keep full.Unlimited Money:Toggle on and you have plenty.Unlimited Rare Metal:Toggle on and you have plenty.