Wolfenstein: Youngblood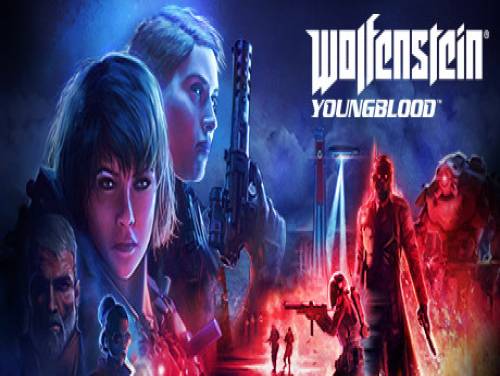 We are happy to show you the trainer and its guide to its use that we have composed for Wolfenstein: Youngblood!
If you have something else to add to this guide and want to share it, do not hesitate! We are always available to supplement our material with additions and to make everything available to our visitors.
For Wolfenstein: Youngblood we also have the Game Tricks available.You will find a collection of codes and unlockables that will allow you to overcome any obstacle on the tricks of Wolfenstein: Youngblood .
For Wolfenstein: Youngblood we also have the solution of the game, you will find a collection of videos taken from YouTube that put together will allow you to get to the end of the game on the solution of Wolfenstein: Youngblood .
Wolfenstein: Youngblood is the first co-op adventure modern of Wolfenstein. He worked with a friend or play alone in the role of one of the daughters of B. J. Blazkowicz and use an arsenal devastating weapons, gadgets and abilities as you fight to liberate Paris from the nazis.
Once all the premises have been completed, we will show you the promo trainer we have recovered and the guide written specifically for us by the authors of the program.
Download Trainer
This trainer adds the following cheats to this game:
Unlimited Health
Unlimited Armor
Unlimited Buddy Health
Unlimited Buddy Armor
Easy Kills
Unlimited Ammo
No Reload
Unlimited Cloak
Fast Cloak Cooldown
Unlimited Shared Lives
No Recoil
Improved Accuracy
XP
Money
Upgrade Points
Bar Currency
Why do you have to pay for some Trainers and Cheats?
Actually is very rare to find games containing cheats because game developers are not interested in keeping them in their games. So the creation of cheats is executed by external programmers that spend their time and skills into the creation of Trainers, programs that let you cheats on a particular game. They do it for passion or for money. Whatever the motivation, it's right to reward them for the time spent on their work.
Paid Cheats and Trainers are better in quality, contains more functionalities, are maintained and supported by their developers.
Respect of the Copyright
The program you are about to download was not created by Apocanow. However, we have permission to publish, publicize and disseminate the authors of the Trainer Wolfenstein: Youngblood Trainer - vSTEAM 08.16.2019. Содержимое файла не содержит вирусов, даже если иногда они могут инициировать AV как ложные положительные.
Activating this trainer
If not state otherwise below, press F1 at main menu.Listen for 'Trainer Activated'.Press desired hotkey. All hotkeys can be changed on the trainer.
Promo Options
NumPad6: Unlimited Ammo
Trainer Options
NumPad1: Unlimited HealthNumPad2: Unlimited ArmorNumPad3: Unlimited Buddy HealthNumPad4: Unlimited Buddy ArmorNumPad5: Easy KillsNumPad6: Unlimited AmmoNumPad7: No ReloadNumPad8: Unlimited CloakNumPad9: Fast Cloak CooldownMultiply: Unlimited Shared LivesAdd: No RecoilSeparator: Improved AccuracySubtract: Unlimited Money
Editor Options
Progression: XPUpgrades: Upgrade PointsCurrency: Bar Currency