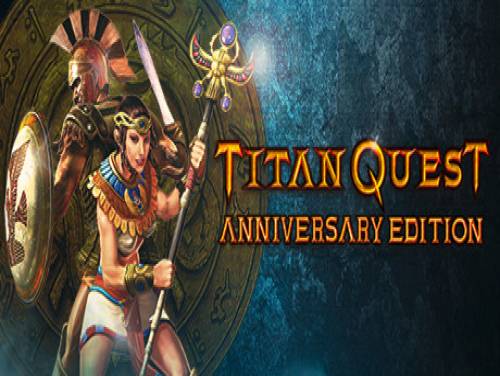 Welcome to our website, especially on the Trainer page of Titan Quest: Anniversary Edition Without too many premises let's describe this article!
If you have ideas to make this guide better, contact us now and we will be happy to post your material on this page thanking you for helping us.
We have good news! For this game we also have some Tricks. this page dedicated to the tricks of Titan Quest: Anniversary Edition you will find all the tricks, codes and unlockables that will surely improve your experience with this game.
We can offer you more! For this game we also have the solution. In this page dedicated to the solution of Titan Quest: Anniversary Edition you'll find one or more videos taken from YouTube that will show you the step by step guide to completing the game.
Titan Quest is back to shine a new light for its tenth anniversary. Titan Quest Anniversary Edition contains Titan Quest and Titan Quest Immortal Throne in a single game massively reworked to provide the experience the action-RPG final.
Let's move on to show you the trainer after the introduction we just wrote in. Before downloading it, consult the user guide to make sure you do not make mistakes.
Download Trainer
This trainer adds the following cheats to this game:
Freeze Enemy
Invisible
Remove Item Requirements
Remove Skill Requirements
Super Speed
Infinite Health
Infinite Mana
No Skill Cooldowns
One Hit Kills
Change Gold
Change Attribute Points
Change Skill Points
Edit Level
Edit Gold
Edit EP
Edit Attribute Points
Edit Skill Points
Super Speed
Fast Attacking Speed
Why do you have to pay for some Trainers and Cheats?
Actually is very rare to find games containing cheats because game developers are not interested in keeping them in their games. So the creation of cheats is executed by external programmers that spend their time and skills into the creation of Trainers, programs that let you cheats on a particular game. They do it for passion or for money. Whatever the motivation, it's right to reward them for the time spent on their work.
Paid Cheats and Trainers are better in quality, contains more functionalities, are maintained and supported by their developers.
Respect of the Copyright
The program you are about to download was not created by Apocanow. However, we have permission to publish, publicize and disseminate the authors of the Trainer Titan Quest: Anniversary Edition Trainer - v2.8 ENHANCED. Содержимое файла не содержит вирусов, даже если иногда они могут инициировать AV как ложные положительные.
Activating this trainer
If not state otherwise below, press F1 at main menu.Listen for 'Trainer Activated'.Press desired hotkey. All hotkeys can be changed on the trainer.
Promo Options
NumPad4: No Skill Cooldowns
Trainer Options
NumPad1: Infinite HealthNumPad2: Infinite ManaNumPad3: One Hit KillsNumPad4: No Skill CooldownsNumPad5: Change GoldNumPad6: Change Attribute PointsNumPad7: Change Skill PointsNumPad8: Change EXPNumPad9: Change LevelMultiply: Remove Item RequirementsAdd: Remove Skill RequirementsSeparator: Super SpeedSubtract: Fast Attacking SpeedDecimal: Invisibility
Editor Options
Player: GoldPlayer: Skill PointsPlayer: Attribute PointsPlayer: EXPPlayer: Current LevelPlayer: Max Level
Notes
Remove Item Requirements:While active you can equip any item.Remove Skill Requirements:While active you can level any skill regardless of your mastery level.Super Speed:While active your character has increased running speed. You must stand still first before it works.Invisibility:While active monsters will ignore you. May not work when enabled after a monster noticed you.