Satisfactory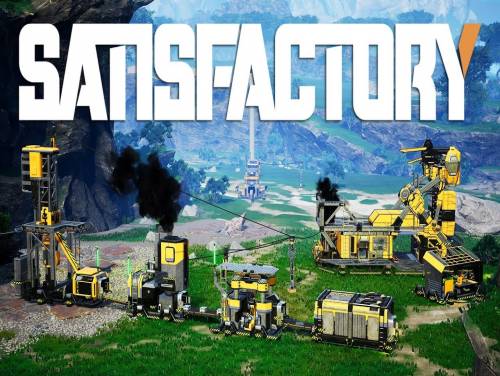 Welcome to Apocanow! This article shows the trainer of the game Satisfactory and contains a little guide to its use in separate pages, you will also find possible solutions and tricks of the game.
If you know other material about the trainer and you can improve this guide, we would be happy to know the details Contact us or comment on this article! You will help all users who are looking for a good guide made for this topic.
For Satisfactory we also have the Game Tricks available.You will find a collection of codes and unlockables that will allow you to overcome any obstacle on the tricks of Satisfactory .
In 1st person, open-world factory building sim by Coffee Stain Studios. Conquer nature, build multi-story factories, and automate to satisfaction!
Once all the premises have been completed, we will show you the promo trainer we have recovered and the guide written specifically for us by the authors of the program.
Download Trainer
This trainer adds the following cheats to this game:
Unlimited Health
Super Damage
Easy Craft Components
Super Inventory Slots
Unlimited Jetpack Fuel
Unlimited Biomass Burner Fuel
Unlimited Vehicles Fuel
Fast Craft
Easy HUB Upgrades
Easy Unlock Tiers and Phases
Edit Current Amount of Clicked Inventory Item
Why do you have to pay for some Trainers and Cheats?
Actually is very rare to find games containing cheats because game developers are not interested in keeping them in their games. So the creation of cheats is executed by external programmers that spend their time and skills into the creation of Trainers, programs that let you cheats on a particular game. They do it for passion or for money. Whatever the motivation, it's right to reward them for the time spent on their work.
Paid Cheats and Trainers are better in quality, contains more functionalities, are maintained and supported by their developers.
Respect of the Copyright
The program you are about to download was not created by Apocanow. However, we have permission to publish, publicize and disseminate the authors of the Trainer Satisfactory Trainer - vCL#102599 EARLY ACCESS. Содержимое файла не содержит вирусов, даже если иногда они могут инициировать AV как ложные положительные.
Activating this trainer
If not state otherwise below, press F1 at main menu.Listen for 'Trainer Activated'.Press desired hotkey. All hotkeys can be changed on the trainer.
Promo Options
NumPad4: Unlimited Jetpack Fuel
Trainer Options
NumPad1: Unlimited HealthNumPad2: Super DamageNumPad3: Easy Craft ComponentsNumPad4: Unlimited Jetpack FuelNumPad5: Unlimited Biomass Burner FuelNumPad6: Unlimited Vehicles FuelNumPad7: Super Inventory SlotsNumPad8: Fast CraftNumPad9: Easy HUB UpgradesMultiply: Easy Unlock Tiers and Phases
Editor Options
Inventory: Current Amount of Clicked Inventory Item