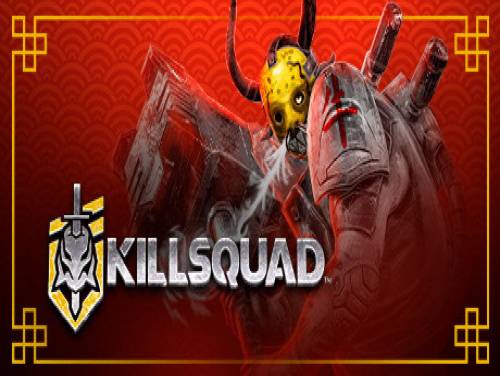 We are happy to show you the trainer and its guide to its use that we have composed for Killsquad!
If you know other material about the trainer and you can improve this guide, we would be happy to know the details Contact us or comment on this article! You will help all users who are looking for a good guide made for this topic.
Not only the Trainer! For you there are also the tricks and codes of Killsquad In the appropriate page of the tricks of this game there are paragraphs dedicated to how to cheat with this game, and to unlock unpublished game modes, in addition to the list of Achievements and how to get them.
KILLSQUAD is a A-RPG coop mercenaries who plunder planets for the glory. Select a raid on the system of online contracts. Unlock the skills mid-mission to adapt. Unleash hell with unique weapons. Scavenge materials to increase them. And, if you survive, spend your size to live another day.
And now, finally, the long-awaited trainer for this game: download it, and after reading the user guide, activate it and you can use all the tricks you promise while playing.
Download Trainer
This trainer adds the following cheats to this game:
Unlimited Health
Unlimited Armor
Unlimited Shield
Unlimited Jumps
Full Super Damage Meter
Fast Skill Cooldowns
Inventory Item Multiplier
High Vector Equipment
Credits
DNA
Ecos of the Plague
Unseen Trinket
Jade
Why do you have to pay for some Trainers and Cheats?
Actually is very rare to find games containing cheats because game developers are not interested in keeping them in their games. So the creation of cheats is executed by external programmers that spend their time and skills into the creation of Trainers, programs that let you cheats on a particular game. They do it for passion or for money. Whatever the motivation, it's right to reward them for the time spent on their work.
Paid Cheats and Trainers are better in quality, contains more functionalities, are maintained and supported by their developers.
Respect of the Copyright
The program you are about to download was not created by Apocanow. However, we have permission to publish, publicize and disseminate the authors of the Trainer Killsquad Trainer - v0.6.4.2. Содержимое файла не содержит вирусов, даже если иногда они могут инициировать AV как ложные положительные.
Activating this trainer
If not state otherwise below, press F1 at main menu.Listen for 'Trainer Activated'.Press desired hotkey. All hotkeys can be changed on the trainer.
Promo Options
NumPad4: Unlimited Jumps
Trainer Options
NumPad1: Unlimited HealthNumPad2: Unlimited ArmorNumPad3: Unlimited ShieldNumPad4: Unlimited JumpsNumPad5: Full Super Damage MeterNumPad6: Fast Skill CooldownsNumPad7: Inventory Item MultiplerNumPad8: High Vector Equipment
Editor Options
Currencies: CreditsCurrencies: DNACurrencies: Ecos of the PlagueCurrencies: Unseen TrinketCurrencies: JadePlayer Stats: Current HealthPlayer Stats: Max HealthPlayer Stats: Current ArmorPlayer Stats: Max ArmorPlayer Stats: Current ShieldPlayer Stats: Max Shield