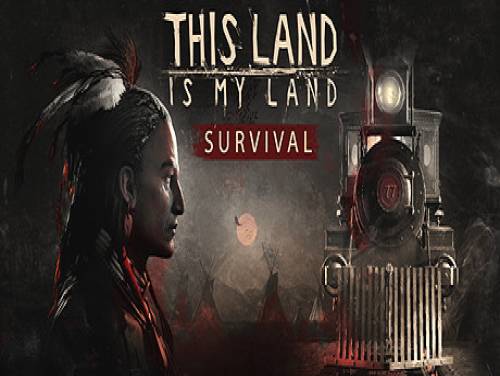 We are happy to show you the trainer and its guide to its use that we have composed for This Land is My Land!
If you know other material about the trainer and you can improve this guide, we would be happy to know the details Contact us or comment on this article! You will help all users who are looking for a good guide made for this topic.
Too little, we also have the Tricks of This Land is My Land! You can find them in the appropriate page of the tricks and codes of This Land is My Land of this site Inside the page there are paragraphs about the tricks and the unlockables of the game If you are stuck somewhere in the game, or you just want have more fun out of the rules, no way is better to consult the tricks we have collected for you.
Experiences the border as a leader of a tribe of native americans and resist the settlement of the colonists. Explore the vast world full of humans and other animals hostile as define your own narrative through your decisions. Survive, hunt, build, unite and lead the tribes to take back your lands.
After this introduction to the game, here is the trainer we promised you, you can see the guide and download the trainer on your PC.
Download Trainer
This trainer adds the following cheats to this game:
Unlimited Health
Unlimited Stamina
Unlimited Weight
Unlimited Use Items/Arrows/Ammo
No Reload Guns
Easy Craft
All Craftable Items Shown
No Damage to Friendly Units
Invisible to Enemies
Enemies Don't React to Gunfire
Enable Developer Cheats/Waypoint Teleport
Why do you have to pay for some Trainers and Cheats?
Actually is very rare to find games containing cheats because game developers are not interested in keeping them in their games. So the creation of cheats is executed by external programmers that spend their time and skills into the creation of Trainers, programs that let you cheats on a particular game. They do it for passion or for money. Whatever the motivation, it's right to reward them for the time spent on their work.
Paid Cheats and Trainers are better in quality, contains more functionalities, are maintained and supported by their developers.
Respect of the Copyright
The program you are about to download was not created by Apocanow. However, we have permission to publish, publicize and disseminate the authors of the Trainer This Land is My Land Trainer - v0.0.2.9375. Содержимое файла не содержит вирусов, даже если иногда они могут инициировать AV как ложные положительные.
Activating this trainer
If not state otherwise below, press F1 at main menu.Listen for 'Trainer Activated'.Press desired hotkey. All hotkeys can be changed on the trainer.
Promo Options
NumPad3: Unlimited Weight
Trainer Options
NumPad1: Unlimited HealthNumPad2: Unlimited StaminaNumPad3: Unlimited WeightNumPad4: Unlimited Use Items / Arrows / AmmoNumPad5: No Reload GunsNumPad6: Easy CraftNumPad7: All Craftable Items ShownNumPad8: No Damage To Friendly UnitsNumPad9: Invisible to EnemiesMultiply: Enemies Don't React To GunfireAdd: Enable Developer Cheats / Waypoint Teleport
Notes
Unlimited Health:Toggle on for effectUnlimited Stamina:Toggle on for effectUnlimited Weight:Toggle on for effectUnlimited Use Items / Arrows / Ammo:Toggle on for effectNo Reload Guns:Only used for guns. Toggle of if trying to use arrows.Easy Craft:Toggle on and you can craft even if you don't have items.All Craftable Items Shown:Toggle on and all craftable items are displayed.No Damage To Friendly Units:Toggle on to try and protect friendly units from damage.Invisible to Enemies:Toggle on and unless you fire weapons or do very obvious attacks, you are invisible.Enemies Don't React To Gunfire:Toggle on to try and keep enemies from attacking with certain weapons, or reacting when you are invisible.Enable Developer Cheats / Waypoint Teleport:Toggle on and you can do the following:Press Left-CTRL to open Developer Menu, which you can use to experiment and change Karma and SP points, and the game speed, and note information.While the Developer Menu is active, you can also press TAB to open the map, THEN you can press Left-CTRL and Left-ALT together which will expose all areas of the map while they are pressed down. While these keys are pressed down, you can then press RIGHT MOUSE BUTTON to teleport to locations.