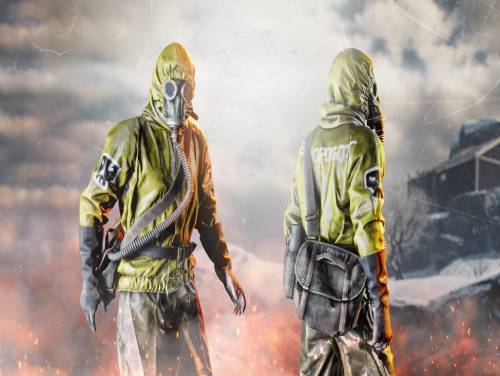 We are pleased to present you this article dedicated to the trainer of Void Bastards .There are all the resources that our editors have found on Void Bastards, in particular, in addition to what is written, also Cheats and Walkthrough.
The guide may not be 100% complete! If you have found something we have not contacted or commented on this article and we will be happy to link what you have sent us to what already exists.
Available on this site are also the tricks of Void Bastards: these cheating and strategies inside will allow you to get to the end of the game without any problem overcoming any kind of obstacle. this in our official page dedicated to tricks of Void Bastards .
Inspired by BioShock and System Shock 2, Nothing Bastards is a new and revolutionary strategy shooter that will test your wits as well as exercise your goal. You can bring the misfit prisoners of the void the Ark through the derelict spaceships and a myriad of dangers of the Sargasso Nebula?
And now, finally, the long-awaited trainer for this game: download it, and after reading the user guide, activate it and you can use all the tricks you promise while playing.
Download Trainer
This trainer adds the following cheats to this game:
Infinite Health
No Reload
Unlimited Ammo
Unlimited Oxygen
Toggle HUD
Add Items
Add Hearts
Fly Mode
Unlimited Fuel and Food
Disable AI
Disable Turrets
Get All Weapons
Get All Upgrades
Super Speed
Why do you have to pay for some Trainers and Cheats?
Actually is very rare to find games containing cheats because game developers are not interested in keeping them in their games. So the creation of cheats is executed by external programmers that spend their time and skills into the creation of Trainers, programs that let you cheats on a particular game. They do it for passion or for money. Whatever the motivation, it's right to reward them for the time spent on their work.
Paid Cheats and Trainers are better in quality, contains more functionalities, are maintained and supported by their developers.
Respect of the Copyright
The program you are about to download was not created by Apocanow. However, we have permission to publish, publicize and disseminate the authors of the Trainer Void Bastards Trainer - v06.06.2019. Содержимое файла не содержит вирусов, даже если иногда они могут инициировать AV как ложные положительные.
Activating this trainer
If not state otherwise below, press F1 at main menu.Listen for 'Trainer Activated'.Press desired hotkey. All hotkeys can be changed on the trainer.
Promo Options
F1: Super Speed
Trainer Options
NumPad1: Infinite HealthNumPad2: No ReloadNumPad3: Unlimited AmmoNumPad4: Unlimited OxygenNumPad5: Toggle HUDNumPad6: Add ItemsNumPad7: Add HeartsNumPad8: Fly ModeNumPad9: Disable Fly ModeMultiply: Unlimited Fuel and FoodAdd: Disable AISeparator: Enable AISubtract: Disable TurretsDecimal: Get All WeaponsDivide: Get All UpgradesF1: Super Speed
Notes
Unlimited Ammo:Please note that you must have some ammo yourself for this to work correctly. Otherwise it shows unlimited but you cannot reload the weapon.Add Items:This adds lots of biomass, CPU, energy cells, plastic and duranium to your inventory.Unlimited Fuel and Food:Press once to get massive amount of fuel and food.Disable Turrets:In a first person level press hotkey to disable all turrets.
Leave a Comment