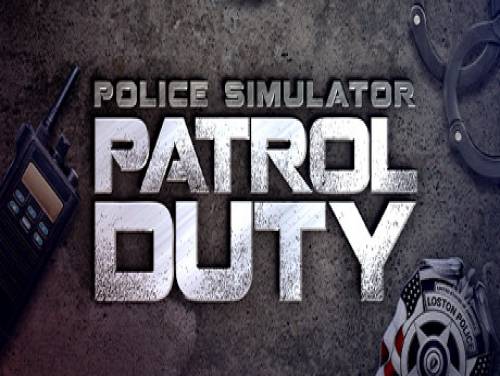 Welcome to our website, especially on the Trainer page of Police Simulator: Patrol Duty Without too many premises let's describe this article!
If you know other material about the trainer and you can improve this guide, we would be happy to know the details Contact us or comment on this article! You will help all users who are looking for a good guide made for this topic.
We have good news! For this game we also have some Tricks. this page dedicated to the tricks of Police Simulator: Patrol Duty you will find all the tricks, codes and unlockables that will surely improve your experience with this game.
Discover the exciting everyday life of a police officer of the United States in Police Simulator: Patrol Duty. Discover a city of United States large, vibrant and freely accessible powered by Unreal®Engine 4, and be sure the safety in your district.
And now, finally, the long-awaited trainer for this game: download it, and after reading the user guide, activate it and you can use all the tricks you promise while playing.
Download Trainer
This trainer adds the following cheats to this game:
Unlimited Health
Game Speed
Current Score
Current Conduct
Main Mission Timer Modifier
Emergency Mission Timer Modifier
Why do you have to pay for some Trainers and Cheats?
Actually is very rare to find games containing cheats because game developers are not interested in keeping them in their games. So the creation of cheats is executed by external programmers that spend their time and skills into the creation of Trainers, programs that let you cheats on a particular game. They do it for passion or for money. Whatever the motivation, it's right to reward them for the time spent on their work.
Paid Cheats and Trainers are better in quality, contains more functionalities, are maintained and supported by their developers.
Respect of the Copyright
The program you are about to download was not created by Apocanow. However, we have permission to publish, publicize and disseminate the authors of the Trainer Police Simulator: Patrol Duty Trainer - vORIGINAL. Содержимое файла не содержит вирусов, даже если иногда они могут инициировать AV как ложные положительные.
Activating this trainer
If not state otherwise below, press F1 at main menu.Listen for 'Trainer Activated'.Press desired hotkey. All hotkeys can be changed on the trainer.
Promo Options
NumPad2: Game Speed
Trainer Options
NumPad1: Unlimited HealthNumPad2: Game Speed
Editor Options
Progression: Current ScoreProgression: Current ConductTimers: Main Mission Timer ModifierTimers: Emergency Mission Timer Modifier
Notes
EDITOR OPTIONS=============For Progression, press ESC to pause the game, then press ESC to unpause the game. You will see the values fill in and then can be modified. For Conduct, do not use values larger than 100.For Timers, once the mission type begins, a value will fill in. Use a large value like 1000000 to freeze the timer, use a small value like 0 to end the mission.Unlimited Health:Toggle on to try and reset health to 100%. To do this, press ESC to pause the game, then ESC to unpause.Game Speed:Toggle on to speed up the game.