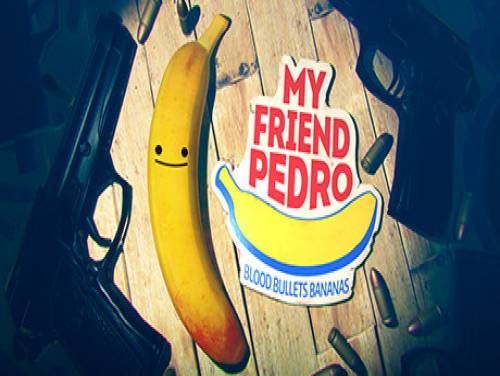 Welcome to the article on this site linked to the trainer of My Friend Pedro On this page you will also find a user guide that will allow you to activate all the tricks that this trainer promises to add.
If you have ideas to make this guide better, contact us now and we will be happy to post your material on this page thanking you for helping us.
Too little, we also have the Tricks of My Friend Pedro! You can find them in the appropriate page of the tricks and codes of My Friend Pedro of this site Inside the page there are paragraphs about the tricks and the unlockables of the game If you are stuck somewhere in the game, or you just want have more fun out of the rules, no way is better to consult the tricks we have collected for you.
My friend Pedro is a violent ballet about friendship, imagination, and the struggle of a man to clear anyone on his journey by the will of a banana sentient.
The introduction is over, here is the trainer for this game, and the related user guide.
Download Trainer
This trainer adds the following cheats to this game:
Unlimited Health
No Damage
Unlimited Focus Time
Unlimited Jumps
No Reload
Enemy Doesn't React to Player
Easy Kill Enemies
Current Score
Why do you have to pay for some Trainers and Cheats?
Actually is very rare to find games containing cheats because game developers are not interested in keeping them in their games. So the creation of cheats is executed by external programmers that spend their time and skills into the creation of Trainers, programs that let you cheats on a particular game. They do it for passion or for money. Whatever the motivation, it's right to reward them for the time spent on their work.
Paid Cheats and Trainers are better in quality, contains more functionalities, are maintained and supported by their developers.
Respect of the Copyright
The program you are about to download was not created by Apocanow. However, we have permission to publish, publicize and disseminate the authors of the Trainer My Friend Pedro Trainer - v1.02. Содержимое файла не содержит вирусов, даже если иногда они могут инициировать AV как ложные положительные.
Activating this trainer
If not state otherwise below, press F1 at main menu.Listen for 'Trainer Activated'.Press desired hotkey. All hotkeys can be changed on the trainer.
Promo Options
NumPad3: Unlimited Focus Time
Trainer Options
NumPad1: Unlimited HealthNumPad2: No DamageNumPad3: Unlimited Focus TimeNumPad4: Unlimited JumpsNumPad5: No ReloadNumPad6: Enemy Don't React To PlayerNumPad7: Easy Kill Enemies
Editor Options
Score: Current Score
Notes
EDITOR OPTIONS=============Once you are in the game far enough where your score is displayed, you can edit the value in the editor, then press TAB to lock it in.Unlimited Health:Toggle on to fill health back to 100.No Damage:Toggle on and most things cannot kill you.Unlimited Focus Time:Toggle on and the focus meter remains full.Unlimited Jumps:Toggle on and you can jump higher and higher.No Reload:Toggle on and most weapons can fire without reloading.Enemy Don't React To Player:Toggle on and most enemies will not react to you. May need to turn off for scripted events.Easy Kill Enemies:Toggle on and most enemies are killed instantly.