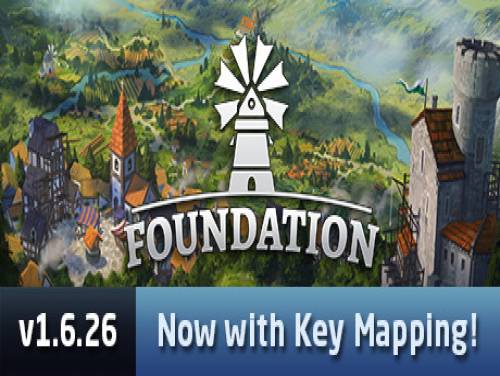 Welcome to Apocanow! This article shows the trainer of the game Foundation and contains a little guide to its use in separate pages, you will also find possible solutions and tricks of the game.
If you have ideas to make this guide better, contact us now and we will be happy to post your material on this page thanking you for helping us.
Not only the Trainer! For you there are also the tricks and codes of Foundation In the appropriate page of the tricks of this game there are paragraphs dedicated to how to cheat with this game, and to unlock unpublished game modes, in addition to the list of Achievements and how to get them.
Foundation is a simulator of construction of the medieval city extended and without grids, with particular attention given to the organic development, the creation of monuments and the management of resources.
After this introduction to the game, here is the trainer we promised you, you can see the guide and download the trainer on your PC.
Download Trainer
This trainer adds the following cheats to this game:
Unlimited/Edit Resources (Change Each Individually)
Change Gold
Fast Worker Leveling
No Worker Needs
Fast Construction
Super Speed
Why do you have to pay for some Trainers and Cheats?
Actually is very rare to find games containing cheats because game developers are not interested in keeping them in their games. So the creation of cheats is executed by external programmers that spend their time and skills into the creation of Trainers, programs that let you cheats on a particular game. They do it for passion or for money. Whatever the motivation, it's right to reward them for the time spent on their work.
Paid Cheats and Trainers are better in quality, contains more functionalities, are maintained and supported by their developers.
Respect of the Copyright
The program you are about to download was not created by Apocanow. However, we have permission to publish, publicize and disseminate the authors of the Trainer Foundation Trainer - vAlpha 1.3.1.0802. Содержимое файла не содержит вирусов, даже если иногда они могут инициировать AV как ложные положительные.
Activating this trainer
If not state otherwise below, press F1 at main menu.Listen for 'Trainer Activated'.Press desired hotkey. All hotkeys can be changed on the trainer.
Promo Options
Add: Super Speed
Trainer Options
NumPad1: Unlimited MoneyNumPad2: Unlimited WoodNumPad3: Unlimited ToolsNumPad4: Unlimited FoodNumPad5: Unlimited WaterNumPad6: Unlimited StonesNumPad7: Unlimited ClothNumPad8: Fast Worker LevelingNumPad9: No Worker NeedsMultiply: Fast ConstructionAdd: Super Speed
Editor Options
Resources: GoldResources: WoodResources: ToolResources: FoodResources: WaterResources: StoneResources: Cloth
Notes
Editing Resources:The resource you wish to edit must have changed at least once ingame before you can edit the value. Changes will NOT be visible ingame immediately. The value must change by the game itself again before you see your new quantity.Unlimited Resources:While active the resource type will be unlimited. The resource type value must have changed before it takes effect.Fast Construction:While active start a construction and open the info window showing the build progress and the construction will be finished in no time.