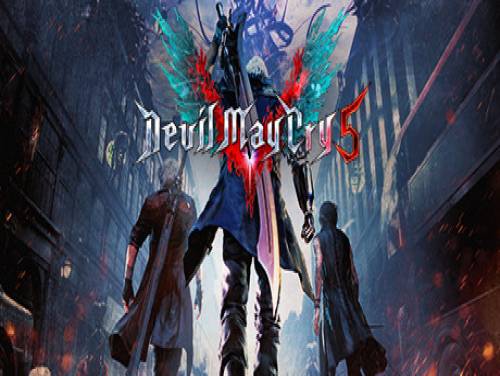 We are happy to show you the trainer and its guide to its use that we have composed for Devil May Cry 5!
If you know other material about the trainer and you can improve this guide, we would be happy to know the details Contact us or comment on this article! You will help all users who are looking for a good guide made for this topic.
Available on this site are also the tricks of Devil May Cry 5: these cheating and strategies inside will allow you to get to the end of the game without any problem overcoming any kind of obstacle. this in our official page dedicated to tricks of Devil May Cry 5 .
The demon hunter final returns with style, in the action of the game that the fans were waiting for.
And now, finally, the long-awaited trainer for this game: download it, and after reading the user guide, activate it and you can use all the tricks you promise while playing.
Download Trainer
This trainer adds the following cheats to this game:
Instant Fill Dante Sin Devil Trigger
Unlimited Dante Sin Devil Trigger Time
Unlimited Dante Royal Guard
Unlimited Health
Max Gun Power Ammo
Unlimited Devil Breaker Overtures
Instant Full Exceed
Instant Full Devil Trigger
Unlimited Nightmare Duration
Easy Kills
Enemies Don't Attack
Freeze Mission Timer
Maximum Score Rating
Game Speed
Edit Red Skull Orbs
Edit Yellow Diamond Orbs
Edit Purple Orbs
Edit Blue Orbs
Why do you have to pay for some Trainers and Cheats?
Actually is very rare to find games containing cheats because game developers are not interested in keeping them in their games. So the creation of cheats is executed by external programmers that spend their time and skills into the creation of Trainers, programs that let you cheats on a particular game. They do it for passion or for money. Whatever the motivation, it's right to reward them for the time spent on their work.
Paid Cheats and Trainers are better in quality, contains more functionalities, are maintained and supported by their developers.
Respect of the Copyright
The program you are about to download was not created by Apocanow. However, we have permission to publish, publicize and disseminate the authors of the Trainer Devil May Cry 5 Trainer - v04.28.2019. Содержимое файла не содержит вирусов, даже если иногда они могут инициировать AV как ложные положительные.
Activating this trainer
If not state otherwise below, press F1 at main menu.Listen for 'Trainer Activated'.Press desired hotkey. All hotkeys can be changed on the trainer.
Promo Options
NumPad2: Max Gun Power Ammo
Trainer Options
NumPad1: Unlimited HealthNumPad2: Max Gun Power AmmoNumPad3: Unlimited Devil Breaker OverturesNumPad4: Instant Full ExceedNumPad5: Instant Full Devil TriggerNumPad6: Unlimited Nightmare DurationNumPad7: Easy KillsNumPad8: Enemies Don't AttackNumPad9: Freeze Mission TimerMultiply: Maximum Score RatingAdd: Game SpeedSeparator: Instant Fill Dante Sin Devil TriggerSubtract: Unlimited Dante Sin Devil Trigger TimeDecimal: Unlimited Dante Royal Guard
Editor Options
Resources: Red Skull OrbsResources: Yellow Diamond OrbsResources: Purple OrbsResources: Blue Orbs
Notes
For EDITOR options, for RESOURCES, press ESC to enter the menu where you can see those values, then you can modify them and then press TAB to lock it in. Also while you are in the base and can CUSTOMIZE, the values are also shown there.Unlimited Health:Toggle on and most things cannot kill you. Note, that at the beginning of the game, when you face the first boss Sparda in the Prologue, you are SUPPOSED to die, and if you defeat that boss, you actually end the game early, so take note.Max Gun Power Ammo:Toggle on and the powered up ammo is always full.Unlimited Devil Breaker Overtures:Toggle on and your overtures remain full.Instant Full Exceed:Toggle on and the exceed is filled and does not diminish when you use the sword.Instant Full Devil Trigger:Toggle on and when you attempt to perform an action that uses Devil Trigger, such as summoning a Nightmare, the trigger will fill and you can execute the action, even if the meter was empty.Unlimited Nightmare Duration:Toggle on and when you summong a Nightmare, the meter does not drop.Easy Kills:Toggle on and most enemies and most bosses can be killed very quickly.Enemies Don't Attack:Toggle on and AI in the game do not attack. In some cases, V's pets or summons might not perform all their actions, so take note.Freeze Mission Timer:Toggle on and some missions that have timers that decrease, this will freeze the timer.Maximum Score Rating:Toggle on and when you attack and earn score rating, it will be maximum.Game Speed:Toggle on to increase the game speed.Instant Fill Dante Sin Devil Trigger:Toggle on and the trigger is full at all times.Unlimited Dante Sin Devil Trigger Time:Toggle on and when it's triggered and counts down, the meter remains frozen.Unlimited Dante Royal Guard:Toggle on to have this remain full.