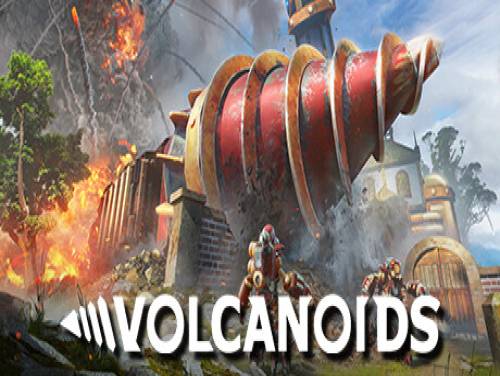 Welcome to Apocanow! This article shows the trainer of the game Volcanoids and contains a little guide to its use in separate pages, you will also find possible solutions and tricks of the game.
The guide may not be 100% complete! If you have found something we have not contacted or commented on this article and we will be happy to link what you have sent us to what already exists.
Not only that, we can also offer you the tricks and codes of this game! See the tricks of Volcanoids of apocanow, that is a selection of cheating and strategies to overcome any hostility the game puts you in front of you, together with the tricks you can also find the list of Objectives and Trophies and how obtain them.
Volcanoids is a survival game in first person based on the construction set in the era of steampunk, where human and technology meet. Explore a volcanic island, running drills giants and long-lasting eruptions triggered by mechanical beings.
And now, finally, the long-awaited trainer for this game: download it, and after reading the user guide, activate it and you can use all the tricks you promise while playing.
Download Trainer
This trainer adds the following cheats to this game:
Unlimited Health
Unlimited Stamina
No Reload
Unlimited Ammo
Super Speed
Inventory Size Multiplier
Volcano Timer
Production Speed
Unlimited Train Energy Level
Mega Core Slots
Easy Craft Production Station
Why do you have to pay for some Trainers and Cheats?
Actually is very rare to find games containing cheats because game developers are not interested in keeping them in their games. So the creation of cheats is executed by external programmers that spend their time and skills into the creation of Trainers, programs that let you cheats on a particular game. They do it for passion or for money. Whatever the motivation, it's right to reward them for the time spent on their work.
Paid Cheats and Trainers are better in quality, contains more functionalities, are maintained and supported by their developers.
Respect of the Copyright
The program you are about to download was not created by Apocanow. However, we have permission to publish, publicize and disseminate the authors of the Trainer Volcanoids Trainer - v1.20.58.0. Содержимое файла не содержит вирусов, даже если иногда они могут инициировать AV как ложные положительные.
Activating this trainer
If not state otherwise below, press F1 at main menu.Listen for 'Trainer Activated'.Press desired hotkey. All hotkeys can be changed on the trainer.
Promo Options
NumPad2: Unlimited Stamina
Trainer Options
NumPad1: Unlimited HealthNumPad2: Unlimited StaminaNumPad3: No ReloadNumPad4: Unlimited AmmoNumPad5: Super SpeedNumPad6: Inventory Size MultiplerNumPad7: Volcano TimerNumPad8: Production SpeedNumPad9: Unlimited Train Energy LevelMultiply: Mega Core SlotsAdd: Easy Craft Production Station
Notes
Unlimited Health:Toggle on and the trainer will try to keep your health full. Things like LAVA and certain scripted deaths are instant death and have nothing to do with health.Unlimited Stamina:Toggle on and you have unlimited stamina.No Reload:Toggle on and most weapons when fired will not need to be reloaded.Unlimited Ammo:Toggle on and when you reload, the current weapon will not have ammo decrease.Super Speed:Toggle on and you can move faster. The value in the trainer can be modified.Inventory Size Multipler:Toggle on and the inventory is multiplied to a size by the value in the trainer.Volcano Timer:Toggle on to keep the timer from counting down.Production Speed:Toggle on and when you craft items at the Production Station, they are finished almost instantly.Unlimited Train Energy Level:Toggle on and the trains/drills have unlimited energy.Mega Core Slots:Toggle on and the trains/drills have plenty of core spaces.Easy Craft Production Station:Toggle on and when you Craft Items in the Production Station, even if you do not have enough materials, when you add them to the queuet they are created.