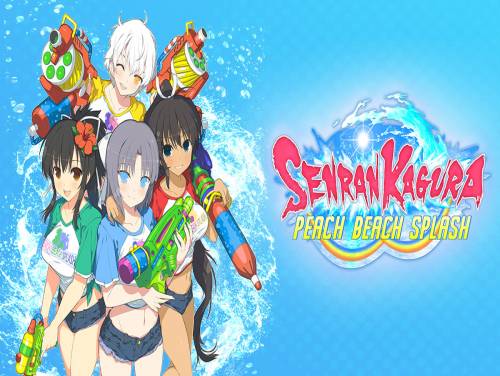 Welcome! Below we have reported the Trainer of Senran Kagura Peach Beach Splash with also attached a small guide to its use.
If you know anything else, always relevant to the topic, or elements to improve this article, do not hesitate to contact us or comment on the guide, you will make it more complete and more useful to all visitors.
Not only that, we can also offer you the tricks and codes of this game! See the tricks of Senran Kagura Peach Beach Splash of apocanow, that is a selection of cheating and strategies to overcome any hostility the game puts you in front of you, together with the tricks you can also find the list of Objectives and Trophies and how obtain them.
The girls of the different factions have been invited to participate at the Peach Beach Splash (PBS), a tournament of water pistols existed since ancient times. The winning team will be able to get just about anything you want. However, the true purpose of the tournament remains unknown.
Thank you for reading this brief introduction, and now let's show the guide to the trainer and the button to download it.
Download Trainer
This trainer adds the following cheats to this game:
Infinite Health
Unlimited Water
Unlimited Hearts
Infinite Power
Freeze Mission Timer
One Hit Kills
No Cards Cooldown
Change Zeni
Change Medals
Super Speed
Slow Motion
Why do you have to pay for some Trainers and Cheats?
Actually is very rare to find games containing cheats because game developers are not interested in keeping them in their games. So the creation of cheats is executed by external programmers that spend their time and skills into the creation of Trainers, programs that let you cheats on a particular game. They do it for passion or for money. Whatever the motivation, it's right to reward them for the time spent on their work.
Paid Cheats and Trainers are better in quality, contains more functionalities, are maintained and supported by their developers.
Respect of the Copyright
The program you are about to download was not created by Apocanow. However, we have permission to publish, publicize and disseminate the authors of the Trainer Senran Kagura Peach Beach Splash Trainer - v1.04. Содержимое файла не содержит вирусов, даже если иногда они могут инициировать AV как ложные положительные.
Activating this trainer
Press F1 at main menu.Listen for 'Trainer Activated'.Press desired hotkey.All hotkeys can be changed on the trainer.
Trainer Options
NumPad1: Infinite HealthNumPad2: Unlimited WaterNumPad3: Unlimited HeartsNumPad4: Infinite PowerNumPad5: Freeze Mission TimerNumPad6: One Hit KillsNumPad7: No Cards CooldownNumPad8: Change Zeni By 5000NumPad9: Change Medals By 500NumPad0: Super SpeedNumPad/: Slow Motion 0.3
Editor Options
Misc: MedalsMisc: Zeni
Notes
Zeni:Visit shop and return back to menu. Now press hotkey and enter shop again to seeit has changed.
IMPORTANT INFO:
These scan exclusions in your security software might be necessary to run this trainer:The trainer exe file (or the folder its stored in)The "Work" folder located here:C:Users[YOUR NAME]Cheathappens
Mute Hotkeys:
To temporarily disable the Hotkeys, press CTRL-H after trainer isactivated. You can use CTRL-H to re-activate the Hotkeys as well.You can also mute specific hotkeys by changing the hotkey you want to mute to 'NONE'.
VR Mode
- HTC ViveClick on the 'VR Mode' button. Trainer options will now be drawn as buttons. Activate the trainer as usual with your keyboard. Put your HTC Vive on and when you are ingame press the 'Menu' button on the hand controllers to open the steam overlay. At the bottom you can click on the 'Desktop' button and you can easily press options on the trainer with your hand controller now.- Oculus RiftThe oculus rift does not have a desktop mode as of now. You have to use the keyboard or controller hotkeys instead.
Leave a Comment