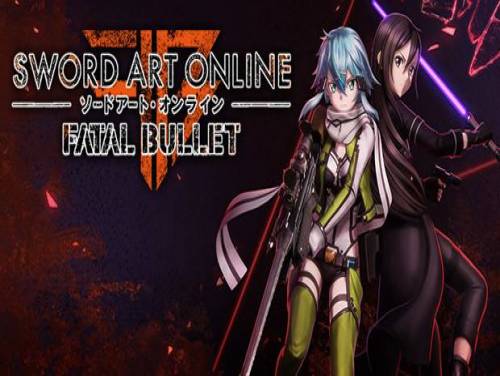 Hello and welcome to Apocanow, we present this article about the Trainer of SWORD ART ONLINE: Fatal Bullet We hope it will serve you and allow you to improve your experience with this game.
If you have managed to find other items to be added, do not hesitate to send them in. We will add them to those already existing and we will thank you publicly for the help you have given.
We also have the tricks of SWORD ART ONLINE: Fatal Bullet! In our page dedicated to the tricks of SWORD ART ONLINE: Fatal Bullet you will find codes and unlockable to overcome all obstacles and arrive without any worries at the end of the game.
We also have the solution of SWORD ART ONLINE: Fatal Bullet! In our page dedicated to the solution of SWORD ART ONLINE: Fatal Bullet you will find a video guide that will show you all the steps to complete the game.
He becomes the protagonist of an original story in the world of Gun Gale Online. Create your own avatar and explore a wasteland in a exciting RPG action and gunplay in the third person.
After this introduction to the game, here is the trainer we promised you, you can see the guide and download the trainer on your PC.
Download Trainer
This trainer adds the following cheats to this game:
Infinite Health
No Reload
Unlimited Ammo
Change EXP of Selected Character
Change Credits
Change CP
EXP Multiplier
No Cooldown
Super Speed
One Hit Kills
Why do you have to pay for some Trainers and Cheats?
Actually is very rare to find games containing cheats because game developers are not interested in keeping them in their games. So the creation of cheats is executed by external programmers that spend their time and skills into the creation of Trainers, programs that let you cheats on a particular game. They do it for passion or for money. Whatever the motivation, it's right to reward them for the time spent on their work.
Paid Cheats and Trainers are better in quality, contains more functionalities, are maintained and supported by their developers.
Respect of the Copyright
The program you are about to download was not created by Apocanow. However, we have permission to publish, publicize and disseminate the authors of the Trainer SWORD ART ONLINE: Fatal Bullet Trainer - v1.4.1. Содержимое файла не содержит вирусов, даже если иногда они могут инициировать AV как ложные положительные.
Activating this trainer
Press F1 at main menu.Listen for 'Trainer Activated'.Press desired hotkey.All hotkeys can be changed on the trainer.
Trainer Options
NumPad1: Infinite HealthNumPad2: No ReloadNumPad3: Unlimited AmmoNumPad4: Change EXP Of Selected Character By 5000NumPad5: Change Credits By 5000NumPad6: Change CP By 50NumPad7: EXP MultiplierNumPad8: No CooldownNumPad9: Super SpeedNumPad0: One Hit Kills
Editor Options
Misc: EXPMisc: CreditsMisc: CPMisc: EXP Multiplier
Notes
This game uses EasyAntiCheat. You MUST uninstall it in order to use the trainer.Visit to figure out how.Additionally as their game launcher blocks the start if EAC is uninstalled (except its blocked with firewall)you have to overwrite their launcher in the game installation directory with ours.EXP:You must be on a mission / PVE event. Open status screen of the character, press hotkeyor use editor to add more EXP.CP:Open status screen and press hotkey or use editor. Reopen status screen to see changes.EXP Multiplier:While active your gained EXP is multiplied by 2 (default). You can change the multiplier using the editor.
IMPORTANT INFO:
These scan exclusions in your security software might be necessary to run this trainer:The trainer exe file (or the folder its stored in)The "Work" folder located here:C:Users[YOUR NAME]Cheathappens
Mute Hotkeys:
To temporarily disable the Hotkeys, press CTRL-H after trainer isactivated. You can use CTRL-H to re-activate the Hotkeys as well.You can also mute specific hotkeys by changing the hotkey you want to mute to 'NONE'.
VR Mode
- HTC ViveClick on the 'VR Mode' button. Trainer options will now be drawn as buttons. Activate the trainer as usual with your keyboard. Put your HTC Vive on and when you are ingame press the 'Menu' button on the hand controllers to open the steam overlay. At the bottom you can click on the 'Desktop' button and you can easily press options on the trainer with your hand controller now.- Oculus RiftThe oculus rift does not have a desktop mode as of now. You have to use the keyboard or controller hotkeys instead.
Leave a Comment